Sherilyn Sawyer, PhD, Director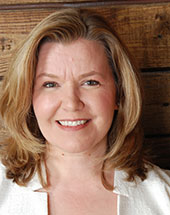 Dr. Sawyer oversees all aspects of daily operations, including biospecimen management, collections management, and information systems infrastructure. With a strong interest in process design and improvement, Sherry has been working to strengthen quality assurance and control programs, operational efficiencies, and adherence to standard operating procedures and best practices within the Biorepository.
Prior to joining the BWH team in 2012, Dr. Sawyer was a Program Director with the Office of Biorepositories and Biospecimen Research at the National Cancer Institute. Her responsibilities included a major role in the design and implementation of the caHUB program and technical oversight of caHUB central operations. She also served as the co-director of Biospecimen Acquisitions for the Genotype Tissue Expression (GTEx) Roadmap Initiative.
Dr. Sawyer is a molecular biologist with expertise in cell signaling and regulation of RNA expression. She earned her PhD in Molecular Biology, Cell Biology and Biochemistry from Boston University.
Janine Neville-Golden, Senior Laboratory Manager
With more than 25 years of experience in cancer biology and neurobiology research, Janine Neville-Golden brings a wealth of experience working in and managing large laboratories in academic settings. Since 2008, Ms. Neville-Golden has overseen the day-to-day operations of the BWH/Harvard Cohorts Biorepository. She works to ensure that each project progresses in a timely manner, working with investigators and staff to address any issues that may arise during the process.
Matt B. Mahoney, Laboratory Manager
Matt Mahoney has spent the past 19 years working in the life sciences sector. He carries a strong background in genetics, neurobiology, and drug discovery with him. Mr. Mahoney has thrived for more than a decade in the biotechnology industry, developing genetic models of human disease, governing drug screening teams, and establishing business development relationships for multiple companies and CROs. He has also founded a life sciences consulting firm which has assisted numerous organizations with their operations/scientific strategy needs. In 2013, Mr. Mahoney ventured into the biorepository field and currently runs the tissue/mammography arm of the BWH/Harvard Cohorts Biorepository. In this capacity, he oversees and facilitates collection and distribution operations in the tissue lab.